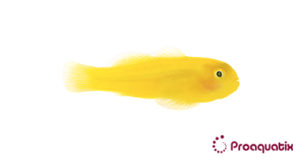 Yellow Clown Goby (Gobiodon okinawae)
Description:
A small, bright yellow Goby.
Natural Ecology:
Inhabits coral reefs and are often found perching on the branches of staghorn corals.
Indigenous To:
They are native to the western Pacific from south Japan to the southern reaches of the Great Barrier Reef.
Compatibility:
Yellow clown Gobies are peaceful fish that are best kept with passive species.
Food:
Proaquatix specimens have been weaned to take aquarium pellets and flakes. Freshly frozen invertebrates such as ocean plankton, Mysis shrimp, brine shrimp, and chopped squid will be readily accepted.