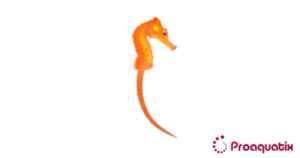 Orange Kuda Seahorse (Hippocampus kuda)
Description:
These unique fish have an upright position, a horse-like head, and a prehensile tail. The Kuda seahorse coloration varies from grey, black, brown, yellow, orange, and red. They range in size from 6" to 11".
Indigenous To:
The Kuda Seahorse is found throughout South East Asia, Australia, and a few Pacific islands.
Compatibility:
Hippocampus kuda do best when kept as a mated pair, or with a small group of its own kind in a species-specific aquarium. They may also be kept with small, passive fish such as, pipefish, dragonets, small gobies, and dartfish.
Food:
Proaquatix specimens have been weaned to eat frozen Mysis Shrimp and should be fed 2 to 3 times per day.